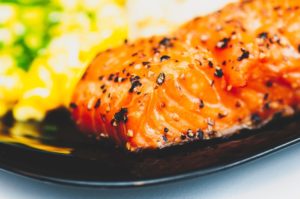 If breakfast is the most important meal of the day and we pay attention to what we eat for dinner cos we often meet friends over dinner after work — what does that make lunch? Sandwiched between the first and last meal of the day, is lunch woefully relegated to just downing whatever is on hand so you can keep chugging through your work day?

Ladies, lunch is important, for many reasons. Not least for the simple reason that making it a proper one helps you lose weight healthily. That's right! Skipping lunch is not healthy cos your blood sugar will crash, so you'll definitely need to eat to keep body and mind functioning at tip top condition.

We have put together a very handy lunch guide with a work week's worth of healthy wholesome lunches that will serve as healthy inspo and take you through the work week! These meals are low in calories but high in protein and fibre, making them great for your weight loss efforts from a holistic point of view! Bag these up to work and you can even squeeze in some lunchtime exercise or come visit us for a quick treatment, since lunch is already on hand.
Ready? Let's go!

Day 1: Monday
Tuna Wrap with Pesto and Tomato
This meal serves up lean protein with a punch of flavour, courtesy of the pesto. Lean protein such as tuna is a appetite suppressant, keeping you feeling full longer. By ensuring that the tuna makes up the majority of your meal, you're doing yourself a favour and helping to keep those hunger pangs away. Pesto is also a smart addition to this wrap cos it being superbly tasty helps you feel satisfied more quickly. Add chopped tomatoes and wrap it all up in a wholewheat wrap with lettuce leaves. You can even substitute the tuna for other fishes or chicken breast.

Day 2: Tuesday
Kale, Butternut and Chicken Salad
This lunch option is packed with antioxidants, nutrients and fibre from the kale and butternut, and packs a hearty serving of lean protein to keep your tummy full for longer! Bake a tray of chopped butternut pumpkin brushed with olive oil. Make a vinaigrette of molasses, apple cider vinegar, olive oil and Dijon mustard for that flavour kick. Use store bought baked chicken from the rotisserie or bake your own chicken and shred it all up. Toss everything together with a serving of kale. Pack it to work – easy peasy!
Day 3: Wednesday
Rice or Noodle Salad

This one is a great way to use up leftover rice or noodles from the night before. Use brown rice or wholemeal noodles to make it extra healthy. A rice or noodle salad is super easy to customise as you can use almost any crunchy veg, shred some lean protein (grilled chicken or fish is great!) and toss it all up with oil – olive or sesame are some recommendations – and some vinegar for a little depth to the flavour. You can also put some cashew or macadamia nuts for an extra protein boost!
Day 4: Thursday
Root Veggie Bowl

This one is so fun to assemble! Comprising a whole bunch of chopped up root vegetables like sweet potato, parsnips, carrots and beet roots as well as a hearty sprinkling of quinoa, you'll feel super good after this meal cos the ingredients are well-known for preventing bloating! Roast your selection of root veggies and mix it all up with some zesty pesto. Presto, you're done!

Day 5: Friday
Pan-fried Salmon with Fruit Salsa
Salmon has got to be one of our all-time favourite protein choices! High in omega 3 fatty acids and superbly nutrient dense, salmon is a wonderful choice of protein for a healthy diet. This lunch is so easy to put together — simply pan fry a fillet of salmon in some olive oil over high heat for a couple of minutes and you've got yourself a juicy piece of salmon for you lunch! Make a quick mango or pineapple salsa to accompany your lunch. Chop up either fruit, together with red peppers, red onions and cilantro and mix it all up with salt and pepper. Pack the salsa separately from the fish so that the salsa does not become soggy. The flavours of mango and pineapple go beautifully with the salmon but you can get creative and try salsas made of other fruits!