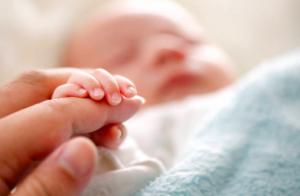 The postnatal period is a critical phase in the lives of mothers and newborn babies. Yet, most mothers tend to focus most of her time and energy only on her newborn (naturally), rather than on herself. Here are 5 things every new mom should try to do to recover from the changes she underwent during pregnancy and to get back to a well and fit body.
1. Sleep when the baby sleeps.
This may be only a few minutes of rest several times a day, but these minutes can add up. Ample rest is vital for the well-being for new moms during this trying period that's filled with new challenges. And while you are resting, keep your legs raised as much as possible to reduce the swelling in legs and feet that's common after giving birth.
2. Eat well
Even though you are no longer eating for 2 people, it is still important to feed the right nutrients to your body to promote healing and recovery and to generate energy for you to care for your baby and yourself! Ensure you take these five food groups every day to get nutrients necessary for your body: Grains, Vegetables, Fruits, Dairy and Protein.
Choose fat-free or low-fat dairy products, as well as those that are high in calcium and try to go lean on protein, picking low-fat or lean meats and poultry. You can also vary your protein intake by alternating between meat, fish, nuts, seeds, peas, and beans.
3. Go for walks
Get outside for a few minutes each day. Getting fresh air and light exercises can help speed up your body's recovery, and it also does wonders to one's mental health. Gentle walks also can help ease some common postpartam symptoms like constipation as walking will stimulate your intestinal transit and help get your body back to normal.
4. Ginger is your best friend
Your mom is right – Ginger is essential in postpartum diet. This versatile root is believed to support the immune system, reduce inflammation in the body and increase breast milk production. Don't worry, you don't need to chew on raw ginger! Simply grate, slice and add into your daily meals to enjoy its warm and comforting benefits. You can even make ginger cookies!
Another option is to make ginger tea. You can do so by adding fresh ginger slices to hot water and some stevia to sweeten it. There are also many organic ginger tea brands in the market if you prefer to dunk a teabag into your mug instead. As with everything else, moderation is necessary because even too much ginger can be dangerous. You don't want to drink more than 1 litres a day.
5. Body and mind restoration
Constantly caring and carrying a newborn means achy body and tired limbs. A post natal massage not only soothes away your exhaustion, it also helps mums to regain their body shape by toning up a flaccid womb which has lost its shape, tone and elasticity during pregnancy.
Water retention, or postpartum edema, can be alleviated with massage treatment such as the Cheryl W Royal Flush Treatment which can reduce bloatedness and swelling.
The time you spent during the massage takes your mind off the daily grind and this pampering session does wonders in preventing post natal depression. Post natal depression is on the rise amongst women due to the stressful and hectic lifestyle in Singapore so it is very important to learn to take a break and have some me-time to breathe and reset.
Cheryl W is pleased to be introducing our latest treatment targeted at mothers next month so watch this space in February as we bring you more details our Mummy Tummy Trim Treatment!