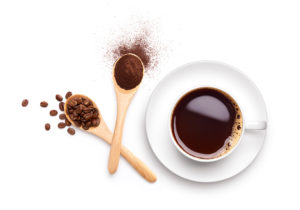 Most people begin the day with a nice, hot cup of coffee. Coffee itself is loaded with antioxidants, and recent studies have shown it can prolong your life. But there's one major caveat with that…you need to drink it without the cream and sugar!
When you add cream and sugar, you're adding in calories and fat to an otherwise healthy beverage. And if you choose those creamer powders, have you seen what they're made from? Ingredients that you can't pronounce! For a healthy lifestyle, adding sugar can undo all the damage you've been working so hard to repair, making it harder for you to get in shape. Yes, even in that morning cup of coffee, that daily sugar intake is going to make a difference.
Most of us don't stop at just one cup of coffee either. We keep right on going, sometimes with as many as 3 cups of the stuff. When we've got cream and sugar in there, and depending on the actual size of your cup, it doesn't take a mathematician to calculate all those unnecessary calories plus sugar and fat you're gulping down.
So, what are your choices? Well, you can switch to black coffee. Or you can enhance your coffee-drinking experience to make it healthier for you without losing the flavor you love. Cheryl W's Ignite Series is an arabica espresso blend that you mix in with hot water for a boost to the metabolism. It uses key ingredients to give you more energy naturally while reducing water retention, and it tastes great.
Drink the Ignite Series for your best health at the end of our treatments or any time you need more energy, especially to kick off your day. Our exclusive formulation has stellar key ingredients that will get you going naturally.
Green Coffee Bean Extract
Naturally, green coffee bean extract has caffeine, and caffeine has long been known to help with weight loss. However, this special extract contains chlorogenic acid. This is a polyphenol antioxidant that can reduce weight loss by reducing the amount of fat and glucose you absorb. It lowers your insulin levels to help create optimum function of your metabolism.
L-glycine
This impressive amino acid is one your body needs to help it produce things like collagen and creatine. It also boosts your quality of sleep and heart health, a nice side bonus!
Our Ignite Series has other naturally healthful ingredients in it too like White Kidney Bean Extract and Ginseng Powder. Drink more to your health and start getting a purely natural boost for your metabolism and energy every morning. Keep the Ignite Series with you to start your day and come see us for a treatment that will work hand-in-hand with it to look and feel your absolute best!
Get your Ignite Series exclusively at Cheryl W retail stores.