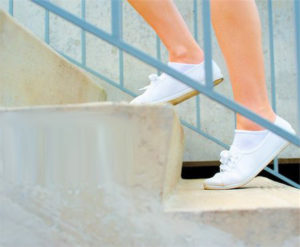 Sometimes, shedding those calories don't have to take the form of special workouts. Sure, setting aside time every day for a good old exercise session IS important, but there are some days when it seems impossible to, for whatever reason. Being soul-crushingly busy is no excuse to totally let yourself go, though! Just switching a few tiny things up in your day-to-day activities can help you lose calories without needing you to go out of your way.
In any case, healthy living is a way of life and not a one-off feel-good fad, so these small calorie-busting activities should become a part of your life whether or not you make it for your gym class after work! We aren't talking about doing jumping jacks while making coffee or skipping rope while watching TV – those are definitely work-outs in their own. Grocery shopping, simple chores and some basic desk organisation all burn more calories than you would think they would, and we have these 5 amazingly simple tweaks to stuff that you already do each day, to help you make the most of these and bust some extra calories while you are at it.
1) Do your laundry
Hygiene aside, doing your laundry – from putting the load of clothes into the washer and hanging those lovely clean clothes up to dry – actually burns more calories than you would imagine. But adding in all the steps that you need to do to complete the whole laundry cycle, such as folding the clean clothes up and ironing, can help you burn up to 140 more calories for 30 min each of folding and ironing. Those clothes need to be kept away and ironed anyway, so why not get them done at a go and burn even more calories?
2) Grocery shopping
Who doesn't enjoy a spot of grocery shopping? 😀 There's just something about walking down those crisp aisles with perfectly arranged groceries beckoning to be added to your cart. Here's a thought: instead of making one or two major grocery runs a week, split your visits up into more regular ones and use a basket instead of a shopping trolley! Walking up and down the aisle with your shopping basket acts as a mini weighted cardio workout that actually burns more than 130 calories in just 30 minutes, with the walking providing the cardio and the loaded basket acting as weights to tone those arms. Plus, buying those fruits, veggies and meats on a more regular basis ensures they are fresher too! Who would have guessed that such a simple tweak to this habit would yield such great calorie-shedding results?
3) Organise your work desk
This tip is so good, cos it not only helps you up your productivity and efficiency, you actually burn a decent amount of calories while you are at it. Just 30 minutes of cleaning your work desk and organising your papers and stationery burns a whopping 120 calories. Thanks to all the bending over and stretching when you clean out your cubicle That's quite decent pay-off, we say!
4) Park further away from the entrance
Driving is so convenient to get you from place to place, and sometimes it is just too easy to get carried away by just how convenient it has made our life. Especially as working professionals who're always on-the-go, we like how quickly we can zip to where we need to go in our car. We've got a rather painless way to still burn some calories while you drive: park further from the entrance so that you'll have to walk that short distance to and from your car. Spend about 15-20 minutes on the extra walking each time you reach your destination and park your car, and you will burn more than 100 calories, just like that. The calories you burn while doing something so simple all add up.
5) Take the stairs instead of the lift
And this last recommendation we've got for you is definitely an oldie but goodie 🙂 If you can stomach walking up 20 flights of stairs from ground floor to your office, by all means! But if you are a mere mortal (like us) and the thought of trudging up so many flights of stairs to work is just too darn daunting, make this achievable by getting off the lift 3 or 4 floors before yours and walk those few flights of stairs. To put things in perspective: 15 minutes of walking up the stairs will shed about 110 calories. And yep, you can consider this to be an aerobic exercise and leg toning exercise too!
Like we always say, keeping fit is a whole lifestyle – and these little tweaks to familiar activities are a great way to incorporate exercise into your lifestyle throughout the day. We recommend complementing your fitness journey with our award-winning treatments which will help keep you in tip-top shape as you exercise and eat your way to a all-over healthier you.