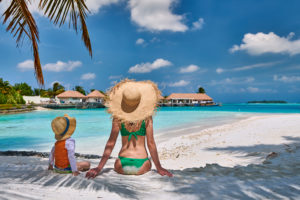 Did you just join the Mom Club? Congratulations! Now that you're busy getting back into the swing of things with your little one, you should think about getting yourself back to good health too. Childbirth takes such a toll on our bodies. Your baby might need lots of attention, but you can't neglect yourself.
With all the outdoor activities – swimming, beaches, barbecues, and vacations – isn't it time you treated yourself to something that will help you look and feel better? Cheryl W has an amazing Mummy Tummy Trim Treatment. It's perfect for any new mom in the postpartum days (3 months for natural delivery; 6 months for c-sections) which will help you ignite your fitness and regain your pre-baby body faster.
It works by eliminating excess body fluids to remove water retention. As it does, it also helps skin adjust from over-stretched to tighten it up. This improves blood circulation overall, helping your uterus shrink back down to its normal size and helping your body push out metabolic waste. Overall, it will leave you with a polished and refreshed glow that will have you feeling amazing.
The procedure begins with a multipolar on your targeted areas to break fat down and get collagen rebuilt again. A tummy wrap comes next, which works a lot like Jamu to bring contour back and firm up your body. An aroma steam bath then opens your pores so our exclusive formulations can absorb optimally. With a flush scrub of sea salt and a combination of oils, everything works together to exfoliate and brighten your skin. The final step is the ginger herbal mask and thermal heat therapy to draw out toxins while helping you burn 300 calories in only 30 minutes.
Maybe a workout seems like hard work right now. Especially in the constant Singaporean heat and with a new little one around. Why not take the time to pamper yourself and restore your overall well-being? When you choose the Mummy Tummy Trim Treatment, you're helping get closer to achieving your weight loss and health goals even faster.
Don't wait until it's too late! Schedule an appointment so you can get your treatment done before your next holiday. Not going anywhere? Schedule one anyway so you can feel more like yourself again. Your little one is counting on you to feel good from the inside out, and when you release the toxins and refresh your body post-birth, you're getting exactly what you need to be at your best. It's not easy being a new mum, but it is easy to schedule the Mummy Tummy Trim Treatment in time to enjoy your new vibrant and vacation-ready body!