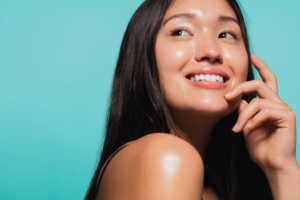 If you visit Cheryl W for weight management treatments, you already know how important it is to keep your body healthy. A busy lifestyle as a mum or working woman (or both!) can be taxing on your health. When you don't have time to fit in proper workouts and training, our treatments can be just the thing to jumpstart you in the right direction. That boost from within, plus our wellness drinks for when you're on the go will definitely get you far. But if you want the sign that you're in good health, take a look at your skin, specifically on your face.
Your face reveals so much more than you think it does. When you have puffy bags and dark circles under your eyes, it shows you're not getting enough sleep. When you have blackheads and noticeable pores, it shows that you're not protecting your skin from environmental aggressors and perhaps neglecting your nutrition. The wellness of your face and your body go hand in hand. You can't expect to have beautiful skin if you don't take care of your body. And if you don't take care of your skin, you're likely not taking care of everything else underneath it.
Instead of making excuses about how busy you are, schedule an appointment with us so you can put your best face forward. We can integrate our weight management and facial treatments for you so you'll not only feel better but you'll look better too.
We've traditionally put more focus on our weight management offerings, but we're now going full steam ahead on our facials that can help you restore health to the skin on your face and make you feel amazing from the inside out.
Two Exciting Facials to Try at Cheryl W!
Would you like to have the effects of a facelift without ever going under the knife or getting stuck with injectables? That's what our Guasha V-Shape Facial Treatment is about! This facial is ideal if you feel your face has a bit of padding to it and to firm up double chins. By incorporating Eastern and Western methodologies that are backed by science, we give you double the boost so your skin looks tighter and skin cells reactivate to help you look younger.
If you frequently have trouble sleeping, you should try it because it irons out under-eye bags and relieves those dark circles. This stimulating technique also encourages toxins to leave the body which makes you healthier overall.
Then there's the Strengthening Porefection Facial which is ideal for anyone with blackheads or larger pores. If you go to other places for facials, you'll probably be tortured with an extraction technique, but at Cheryl W, we use hot and cold therapy to soothe your skin and remove deep-down buildup from your pores for a glorious clean without the pain. Your skin will be smoothed, soothed, and refined, plus the invigorating effect will leave you feeling amazing.
Want to try these facials? Hurry and set an appointment today. Both are at special pricing for a very limited time. Once our slots fill up, you'll miss out! You can get the Guasha V-Shape Facial Treatment which includes our signature body flush treatment for just $68. Our Strengthening Porefection Facial is currently only $28. Grab one (or both!) right away!